Engineering
INTERIOR DECORATION
Decoration in Persian means picking, decorating, and arranging.
The definition of interior decoration is actually how the interior furniture of the house, rooms, kitchen, living room, bathroom, and toilet is properly selected and selected.
Today, with the progress in various fields of interior decoration, it is not only considered for residential houses but also beautification and application of shops, offices, factories, shops, hotels, hospitals, subway stations, buses, etc.
Familiarity with the definition of home interior decoration
Home interior design can also be defined as synchronizing the interior components of the house to improve the beauty and pleasantness of the home space as well as optimize the space artistically.
Of course, in this process, the harmony between the colors and the interior and home furniture components will make the appearance of these components more harmonious.
What is the purpose of interior decoration?
Interior decoration is a science today. The application of this knowledge is different in each place and is done for a specific purpose. We will mention each of them below.
Stores and shops: Attract and attract customer attention
Office environments: Create a safe environment to work and feel comfortable
Hospitals: User environment, creating a calm environment so that patients and medical staff can feel empathy and support
Residential houses and apartments: creating a space that is comfortable and also brings warmth and comfort
Public spaces such as bus stations, subways and even for spaces such as car cabins: to apply and meet the needs of employees and the general public
The process of designing home decoration, like any other artistic process, has special points and details that can be used to make extraordinary changes by observing the principles of decoration.
If you overuse any color of the color cycle, it loses its power and effect. You need to know when to stop using it.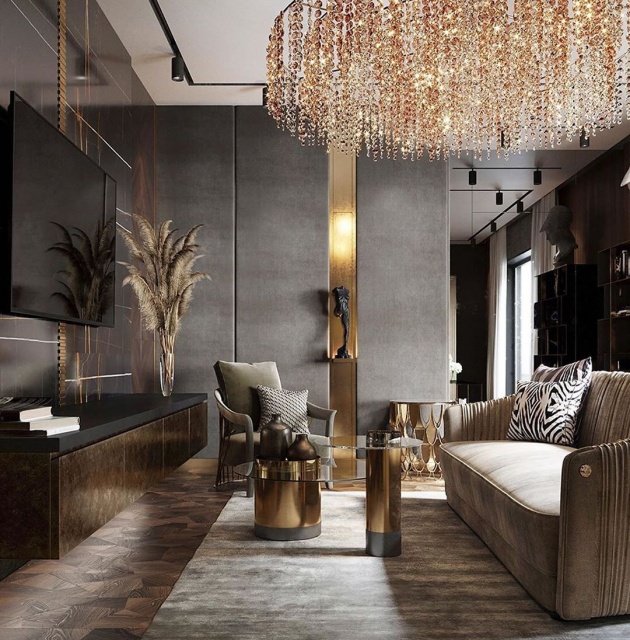 Interior decoration styles
Interior decoration includes different styles. These styles are designed and selected with the aim of beauty and optimal use of interior space. Here are 10 types of interior decoration that are liked by many people and will often bring a better look to the home.
Modern style
Modern style usually reminds us of houses with a dry and soulless layout, of course, clean, which is made of metal, glass, and stone. There is also a little use of essential and non-essential accessories.
Modern style has existed at different times, only with the passage of time and the obsolescence of modern style in a period, its name has changed. If we want to make it simpler, with time, modernity is no longer considered as another type of modern arrangement, because the knowledge and science of interior design are increasing every day.
For example, the traditional French interior decoration style was considered modern at the time but is now part of the traditional and classic decoration.
Industrial style
This style of interior decoration was created after the industrial revolution in today's developed countries. This style has also been used for home decoration in recent decades. But in the past, this style was used in offices, factories, and industrial centers.
This style makes the space look warm with the help of warm and dark colors.
Metal, glass, and wood are the most commonly used materials in this style.
A small and simple accessory is used in the industrial style of interior decoration.
Minimal style
Minimalist style, as its name implies, suffices for the smallest of any elements for interior decoration.
Minimalist interior decoration, in fact, exposes the feng shui contentment of anticipation. In other words, this style stands against maximalist styles like the traditional and does not like a luxury.
Traditional style
The traditional interior decoration style is arranged differently in each country. For example, the traditional style of French, Italian, British are in a group of interior decoration style called traditional European.
Interestingly, two traditional styles in Iran are divided into pre-Islamic and post-Islamic Iran.
The bohemian interior decoration style is also one of the traditional styles that belong to the region of North Africa and Southwest Asia.
Transitional style
Transitional goes back to the balance between traditional and modern interior decoration style.
Simple furniture next to carpets with crowded designs and vibrant colors
Simple colored walls with crowded and patterned boards
The use of wood, metal, glass, and stone together will evoke a sense of transition in this style.
French style
French style is one of the interior decoration styles that has attracted many fans in many countries, including Iran.
This style became popular in Iran since the first travels of the Qajar kings to Europe, and examples of it can still be seen in Iranian homes. Its features include the following.
Turned furniture
Crowded walls
Gorgeous boards
Expensive accessories
Vibrant colors alongside neutral
Rustic style
This style is a combination of industrial and rural style. It also has its own fans. The interesting thing about the rustic style is that it draws a lot of inspiration from nature.
In rustic interior decoration, the interior is decorated like an open space.
White paint is used a lot on the walls.
The use of wood, metal, leather and leather in this style is more noticeable.
Accessories of this style usually display local handicrafts.
Beach style
The beach style, as its name implies, is inspired by the homes and interiors of beach towns. This style is very popular in coastal cities.
In this style, blue, green and white colors are mostly used.
The use of beach materials such as mats in flooring, wooden utensils, etc. is very common.
Flowers and plants also have a special place in this style.
Art Deco style
This type of style is a luxury style that uses artistic tools in its decor.
Paintings in this style of interior decoration are original and expensive.
Every accessory and device used in this style to decorate the door should be a work of art.
The use of dark colors for accessories and crowded walls, extensive decorations and antiques are used in this style.